Menu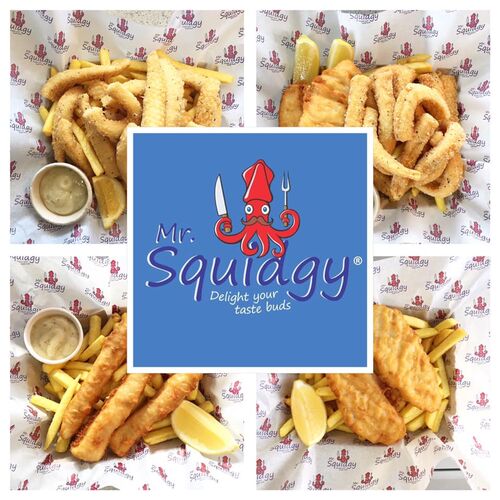 Mr Squidgy food is freshly cooked to order while you wait.
Main
Premium Fish & Chips with a choice of Flake, Flathead, Whiting, New Zealand Cod, Blue Eye Trevalla, Flounder, Snapper or Barramundi fillets.

Prawn Cutlets & Chips.

Succulent Calamari & Chips with a delicious rice crumbed coating.

Succulent Calamari Only with a delicious rice crumbed coating.

Authentic Tasmanian Scallop Pies (Subject to availability).

Salmon Wellington & Chips.

Tempura battered Scallops & Chips.
Sides
Freshly cooked Premium Hot Chips.

Chips, cheese and Gravy.

Beer Battered Wedges with sweet chilli sauce and sour cream.

South Melbourne Dim Sims (steamed).

Chips with Cheese and Gravy.

Cauliflower Popcorn.

.Corn Fritters.

Cream Cheese Jalapenos.

Mac 'N' Cheese Croquettes.

Mozzarella Sticks.

Arancini - Vegetable.

Smoked Salmon Savories.

Vegetable Spring Rolls (4).

Vegetable Samosas.
Sweet Sides
Please note that some menu items listed may not be offered at all locations.
DRINKS
Mt Franklin Water/Soft Drinks (375ml can/600ml bottle)
Lipton Ice Tea
Iced Coffee/Chocolate
Violet Crumble
Ribena
Red Bull
Spring Valley Juice
EFTPOS AVAILABLE
Contact number: 0408 764 234